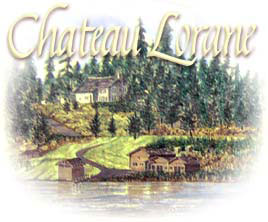 What began over 20 years ago in Southern California as a small backyard hobby has for Linde and Sharon Kester, become a second career and a new way of life. In 1984 they planted a 30 acre vineyard in the historic Lorane Valley. Their first commercial wines were produced in 1991 and then in 1992 the Chateau Lorane tasting room was opened on their 200 acre estate with tall green stands of fir trees and a beautiful private lake. Amidst the spectacular scenery one can experience a truly unique family of wines, from traditional Pinot Noir, Chardonnay, Cabernet Sauvignon and Merlot, to rare and exotic varieties, painstakingly crafted handmade wines.
Chateau Lorane has created a distinguished group of wines which include rare and unusual grapes such as Baco Noir, Huxelrebe, Marechal Foch, Leon Millot, and Melon de Bourgogne. These are wines with distinct characteristics which one must taste to fully experience the breadth of flavors and nuances. Chateau Lorane also produces fruit wines and meads from Apricots, Raspberries, Huckleberries and Wild Blackberries which ripen to perfection during Oregon's warm, dry summers. Some years Mother Nature blesses Oregon with ideal conditions to create late harvest wines. Late Harvest Sauvignon Blanc, Riesling, Pinot Gris and Marechal Foch have been produced.
Linde's wine making style has been described as being somewhat unconventional. He admits that he likes to make non-traditional blends, he also enjoys utilizing obscure grape varieties and in general tries to make his wines as distinctive as possible. Priding themselves on the flexibility and freedom to pursue such creative passions, Linde and Sharon Kester are a welcome discovery to the wine lover in search of unique wines of exceptional character.