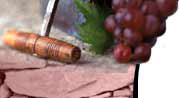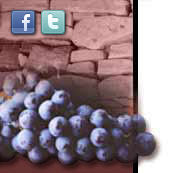 Hello! My name is Linde Kester, I am co-owner (along with my wife Sharon) at Chateau Lorane. Even before starting our winery in 1991, I was intrigued by the many obscure varieties that I discovered at Oregon State University's Woodhall III Vineyard. I wondered to myself why these particular varieties never became popular. I also wondered what kind of wine could be made and would people take a chance and buy them? I viewed these varieties as a challenge and began making small batches of wine, usually a half of a barrel (30 gallons) to as much as 1-2 barrels. The response to my efforts was extremely positive. Several more obscure varieties were found and we began calling this collection of wines, "rare, unusual, and exotic." Our winemaker, Dave Gruber, works very hard to insure that each one of these wines is truly something special. Our goal is to produce wines that exhibit the distinct characteristics of each unique variety and to offer an opportunity to experience the full breadth of wine flavors and nuances.
In the past, many of these limited production wines sold out very quickly and people that did not visit our tasting room regularly were disappointed. The wine club is an opportunity to release these very special wines exclusively to club members before they are offered to the general public.


Wine to be offered to club members:
Reds

Tempranillo
Leon Millot
Pinot Noir
Merlot
Marechal Foch
Baco Noir
Durif
Zinfandel
Malbec

Whites

Viognier
Melon de Bourgogne
Sauvignon Blanc
Chardonnay
Huxelrebe
Gewurztraminer
Pinot Gris
The Wine Club
3 bottles of wine, two red and one white, delivered to you every quarter. Shipments may be terminated any time you wish
Cost will be in the range of $50-60 per shipment plus shipping and handling. Shipments to the mid-West and East Coast will be slightly higher.
Each shipment will include data on the wines, winemaker's notes, historical information on the grape variety, location of vineyard, serving suggestions, and recipes.
Opportunity to add on to shipment.
Club Member Benefits
20% off bottle price of all wines.
10% off online or tasting room wine merchandise.
Limited production wines shipped to club members will be sold only to club members for 30 days after shipment. This gives club members an opportunity to purchase any remaining quantities of wine before it is released to the public.
A 10% discount on all winemaker's dinners at Chateau Lorane.(Must be purchased by club member)
2 for 1 discount at the annual Memorial Weekend Fine Art & Wine Festival
Other benefits as we dream them up!